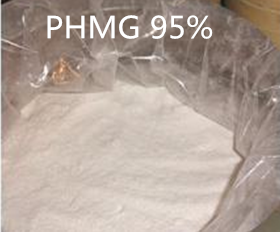 CAS No: 57028-96-3
Product Name: Polyhexamethyleneguanidine hydrochloride
Brief introduction: one kind of environment-friendly high molecule polymer antibacterial disinfectant--
Polyhexamethyleneguanidine , with broad antibacterial spectrum;
low active concentration; fast active speed; stable performance; soluble in water easily;
can be used at room temperature; long-term inhibition, no side effects; non-corrosive;
colorless, odorless; non-toxic; flammable, not explosive, use safely; price is moderate;
easy to transport, it may be the best disinfectant. The fact that , this product is an environment-
friendly and multifunctional new polymer, is widely used in industry, agriculture, medical and
daily life .
Features:
1, soluble in water;
2, aqueous solution is non-toxic, colorless and odorless;
3, flammable, non-explosive;
4, a strong ability to kill bacteria, and broad-spectrum, efficient, and long-term inhibition ;
5, no erosion for various materials;
6, non-corrosive;
7, contain no iodine, chlorine, formaldehyde and other harmful substances.
Performance indexes:
Stability: The rate of descent of 0.5%Polyhexamethyleneguanidine in 37°C(Relative humidity
75%~80% for 90 days) is 4.91%
Metal corrosion: 0.5%Polyhexamethyleneguanidine is non-corrosive to stainless
steel, copper, carbon steel, aluminum and so on.
Properties: Surface tension of 0.1% solution: 49.0dyn/cm2
Biodegradable possibilities: complete
Treatment to the surface: used in sterilization, no damage, no bleaching
Storage Performance: not bad for two years in the original packaging
Combustion or explosion: No burning, no explosion
Chemical Properties: Cationic polyelectrolyte
Comparison with other disinfectants: Polyhexameth
yleneguanidine Aldehydes Phenols Phenols Quaternary ammonium salts Chlorine-containing Disinfectant Iodine class Alcohols
Bactericidal effect excellent excellent moderate good excellent good common
Irritation on mucous membrane NA moderate moderate moderate strong moderate weak
Corrosion NA moderate moderate weak strong moderate NA
Toxicity moderate moderate moderate low extreme strong moderate weak
Long residual action long moderate moderate moderate extreme short moderate short
Odor NA irritative irritative weak extreme irritative moderate moderate
Dyeing capacity NA NA yellow NA bleaching yellow NA
Environmental Pollution NA moderate moderate moderate strong moderate slight
Bactericidal effect: 0.02%Polyhexamethyleneguanidine vs Escherichia coli 100%;
0.02%Polyhexamethyleneguanidine vs Staphylococcus aureus100%;   
0.02%Polyhexamethyleneguanidine vs Candida albicans100%;   
0.05%Polyhexamethyleneguanidine vs Neisseria gonorrhoeae100%.   
Sterilization test vs matter surface 99.8%, > the standard value of Chinese standards.   
Sterilization test vs palm surface 97.65%, > the standard value of Chinese standards.
Product standard:
Appearance: white powder
Content %: 99% 95% 100%
PH value: 4
Application: PHMG can be used for decontamination and resistance of microbe, including bacteria, virus, fungi, mildew and algae; in the field of medical use , hygiene, textile, wet-tissue. fishery, planting ,food-processing, water treatment etc.
1, For aquaculture
2, For disinfectant wipes
3, Special disinfectant for home
4, For skin, wound disinfectants
5, Lotion for genital
6, Cleaning agent for sterilization in public places
7, Disinfectant used for hand
8, used in textile industry and sanitary napkins
9, For athlete's foot, skin disease
10, For detergents
11, For beer, beverage and food processing industries
Storage: Store in a cool, dry , shading, sealed and stored.
Shelf life: two years