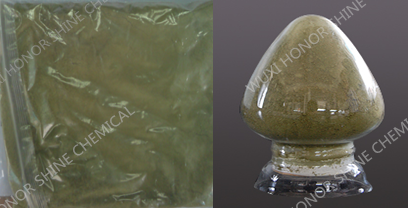 General Description : Copper Pyrithione is an insoluble, olive green solid that is sold as a paste/dispersion product or powder for industrial applications. Copper Pyrithione is supported in Europe under the Biocidal Products Directive.
Molecular formula: C10H8N2O2S2Cu
CAS NO: 14915-37-8
Molecular weight: 315.9
Stability: 2 years in cool places avoiding light.
Storage: In cool place, avoid direct sunlight
Appearance: Olive green powder
Assay: ≥97%
Melting Point: ≥260℃
PH(5%solution): 6.0-8.0
Volatile: ≤0.5%
Packaging: 25KG net each round cardboard drum,
4.5MT /20'FCL; with pallet or without pallet
Application of CPT: Copper Pyrithione is primarily used as an antimicrobial in industrial products such as antifouling paints and in the protection and preservation of fiber, leather, and rubber.
Advantages: Copper Pyrithione is a highly effective, broad spectrum biocide used to control bacteria, algae, and fungi.
Safety: The concentrated form of Copper Pyrithione (100% active ingredients-, powder) is moderately toxic if swallowed; however, Copper Pyrithione is an emetic which means that accidental ingestion of the material should result in vomiting or purging the material out. Inhaling the concentrated dust or mist of Copper Pyrithione is considered to be highly toxic and may be fatal if inhaled. Dermal exposure to Copper Pyrithione is considered to be non-irritating.