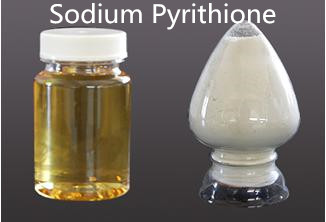 Alias: Sodium-2-pyridinethiol-1-oxide
General Description: Sodium Pyrithione is an aqueous solution of sodium 2-pyridinethiol–1–oxide. It is registered by the U.S. EPA under the Federal Insecticide, Fungicide, and Rodenticide Act and supported in Europe under the Biocidal Products Directive.
Molecular formula:C5H4NOSNa
Molecular weight:149.16
CAS NO.:3811-73-2
Hazardous class : 9
HS :2933399090
SOLID UN NO: 3077. SOLUTION UN NO.: 3082
Solubility: easily soluble in water and ethanol etc.
Microelement: customerized supply
Stability: 2 years, avoid light
Storage: In cool place, avoid sunlight
(1) Sodium Pyrithione (SPT)
Industrial Grade (liquid)Spec.
Appearance :Pale amber liquid and free of sediment
Assay: ≥40%
PH(5%solution): 8.5-10.5
Refractive index :1.4770-1.4870
(2) Pharmaceutical Grade (solid)
sodium pyrithione (medical grade)
Appearance: Almost white powder
Assay(dry base) :98%min
lost on drying:≤5%
PH(5%solution): 8.0-9.0
Packaging :
(1) Industrial Grade (liquid):250kg net in each blue square plastic drum or 25 kg net each plastic drum , 20MT /20'FCL.
Packing:1.3MT net in each IBC drum , 25MT max /20'FCL(21.6MT)
(2) Pharmaceutical Grade (solid):25KG net each cardboard drum,IF with pallet,5MT /20'FCL;If without pallet, 8MT /20'FCL
Payment : T/T in advance or L/C sight
Lead time : 10 working days
Validity: 15 days.
Application of SPT
metalworking fluids, architectural paints, aqueous emulsion systems; textiles, plastics, flooring, wallboard and various construction products such as adhesives, caulks, components of insulation, flooring, etc
It is also an effective germicide in fruit tree, peanut, vegetable and cereals. Due to its good performance of efficiency ,eco-friendly, low poison and broad spectrum, SPT and the like products have shown a great market potential in a wide range of applications.
Advantages:Sodium Pyrithione is a non-VOC, broad spectrum, highly effective antimicrobial agent. It is used to control mold, mildew, fungi, yeasts, algae, and both gram (+) and gram (-) bacteria. Sodium Pyrithione also has excellent heat and pH stability.
Safety:Concentrated Sodium Pyrithione may be harmful if ingested, inhaled, or in contact with the skin as absorption can occur; however, diluted at recommended use levels, it is considered non-toxi.