TCMTB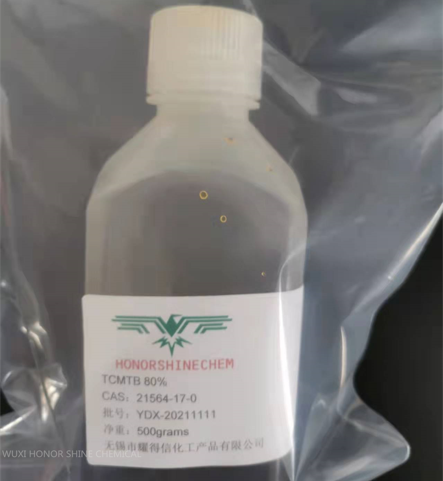 (Ⅰ). Product description
English name: 2-(Thiocyanomethylthio) benzothiazole
Molecular Formula: C9H6N2S3
Molecular weight: 238.35
CAS No.: 21564-17-0
(Ⅱ). Quality specifications
| | |
| --- | --- |
| | Standard |
| Appearance | Amber or dark red sticky liquid |
| Content(%) | 80%, 60% or 30% |
| 2-(Chloromethylthio)benzothiazole(%≤) | 0.02 |
| pH(1%water solution) | 3-6 |
| Density(20oC,g/mL) | 1.10±0.05 |
| Smell | Slight |
| Flash Point (>) | 93oC |
| Freezing point(<) | -5oC |
(Ⅲ). Performance characteristics
Stable in normal storage conditions, long time in the above 60 oC environment lead to decomposition, above 100 oC in the environment for 4 hours cause thermal decomposition.
(Ⅳ). Usage
TCMTB is a very economic and effective green bactericide. TCMTB with BUSAN30L from Buckman Company and BIOCIDE MT30 from Progiven Company are the same kind of product. It can be effectively applied in leather processing, water treatment , coating and has strong killing and control function on bacteria, fungi as well as algae.
(Ⅴ). Package
25kg ,200kg ,250kg plastic drum or 1000kg IBC drum.
Note:We are the biggest specializied manufacturer of TCMTB in China and the only supplier of TCMTB 80% grade.